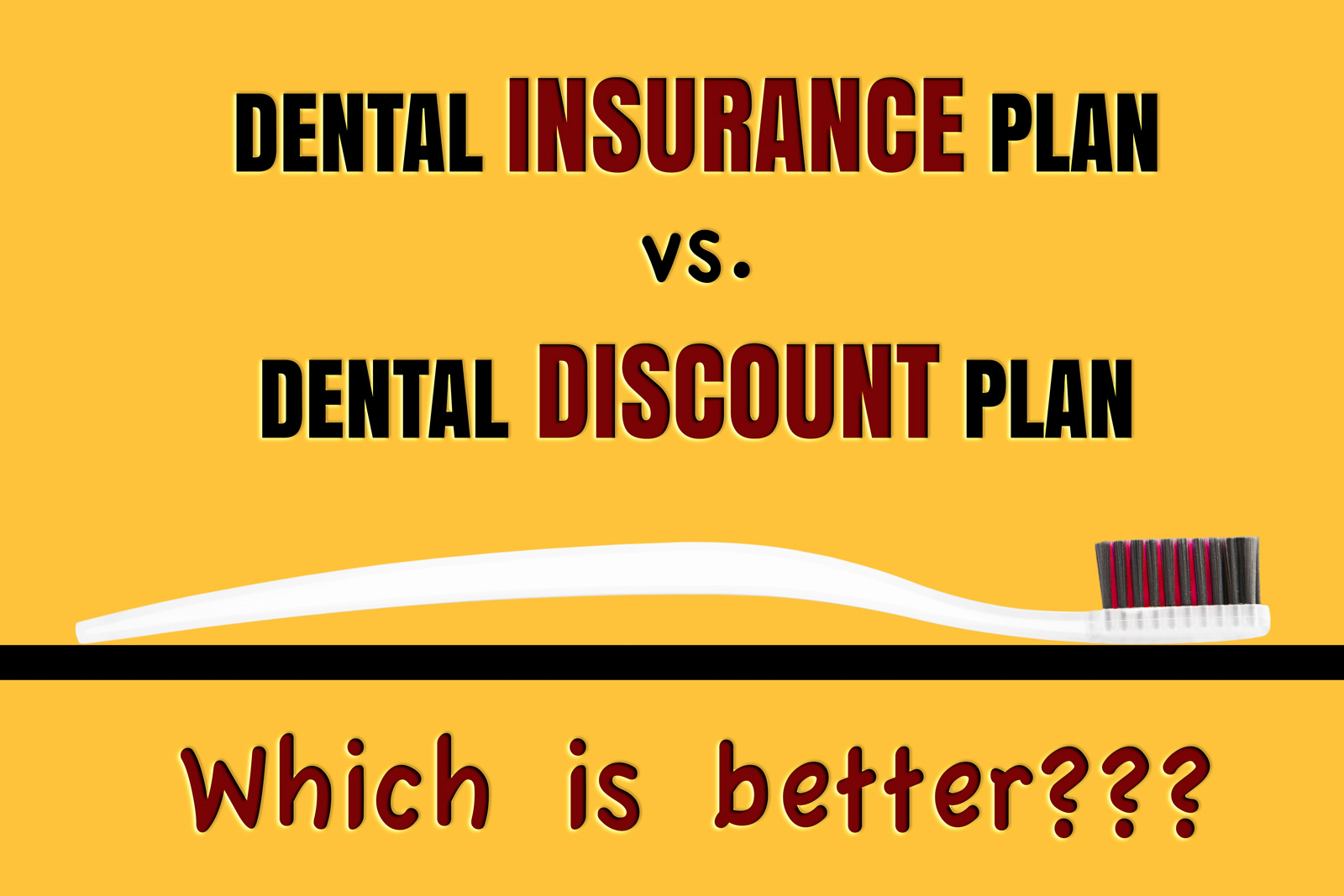 The health of your teeth and gums affects your whole body's health, so it's important to see a dentist regularly.
Should I get a dental insurance plan or a dental discount plan? What's the difference?
Both plans will generally cover dental exams, checkups, cleanings, extractions, deep cleanings, porcelain crowns, dentures, and implants.
Most dental INSURANCE plans have a monthly premium, annual deductible, waiting period before certain procedures are covered, and a maximum annual coverage limit. In some cases, the dentist will only charge you the approved amount for a procedure and submit a claim to the insurance company after your visit. In other cases, you may have to pay the full amount at the time of treatment and then submit the claim yourself to the insurance company for reimbursement.
Dental DISCOUNT plans are membership-based. Participating dentists agree to provide treatment to members at a discounted rate. (To become a member you simply fill out an online form, pay a one-time $20 processing fee along with your monthly premium, and you get a membership number immediately.) These plans generally have a lower monthly premium, no deductible, no waiting period, and no coverage limit.
Which is better?
It's really a matter of personal preference. Some people prefer to have a traditional dental insurance plan, others prefer the convenience of a dental discount plan.
We invite you to compare them:
---
DENTAL INSURANCE PLANS
---
DIRECT ACCESS DENTAL DISCOUNT PLAN
Direct Access dental discount plans are administered by Careington. The premium for an individual is only $7.90/month, $11.90/mo for a single + one (spouse or dependent child), and $15.90 for a family. There's a one-time, non-refundable $20 processing fee.
NOTE: Direct Access Dental has two discount plans: Direct Access Value and Direct Access Premier. The monthly premium is the same for both plans; the difference is in the provider list and the negotiated prices that you will pay for treatments. When you review the Provider list, we recommend that you look to see if there are any dentists in your area who accept the VALUE plan, as this will save you the most money. (Many of them accept both.) For example:
Sample Savings:
Cleaning (adult): $109.72*
Full Mouth X-ray: $157.79*
Porcelain Crown: $1,348.05**
DA Premier Price: $648.00
Simple Extraction: $209.00*
Braces (adolescent): $6,393.31*
DA Value Price: 20% discount
DA Premier Price:20% discount
*Price is based on the 80th percentile of the 2014 National Dental Advisory Service Comprehensive Fee Report.
** Porcelain to high noble metal. Price is based on the 80th percentile of the 2014 National Dental Advisory Service Comprehensive Fee Report.
---
---
If you have any questions about dental insurance or dental discounts plans click here to schedule a free consultation, or call us at 702-518-0552.
At Heart to Heart Insurance Agency, LLC, everything we do is from the heart!

---